Start to enjoy the sweating workout to build your ideal physique with our fitness equipment!
Be muscular, be hot, be a better you, from now on!
Versatile Body Building
Power Tower
Our Heavy Duty Home Gym power tower is suitable for men and women to build pretty body. Being an extremely versatile exercise equipment, our power tower aims at providing a gym-quality and whole-body workout, which allows everyone to enjoy fat-burning and muscle training. It is ideal equipment for home fitness. Don't miss out!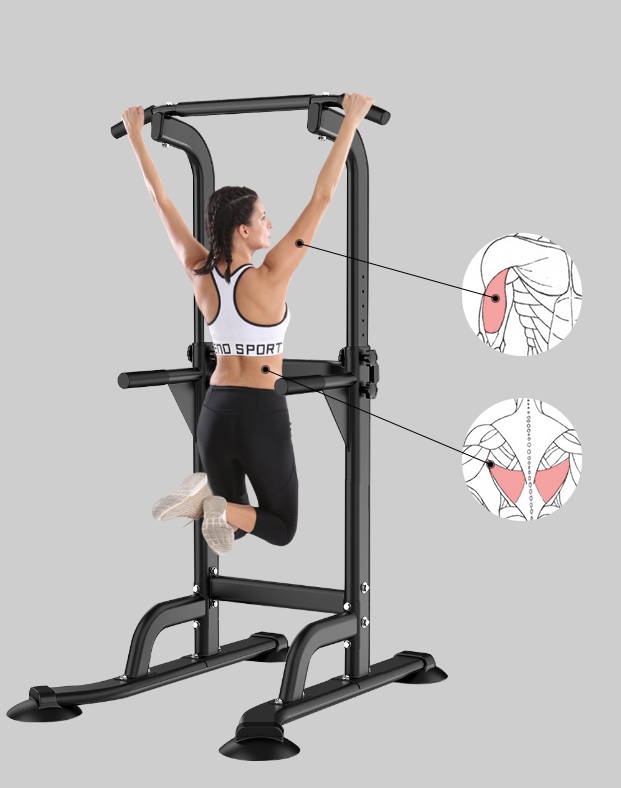 Pull-up exercises back, forearms, biceps, shoulders and improves your grip strength. It boosts the upper body strength and are popular for broadening the back and shoulders.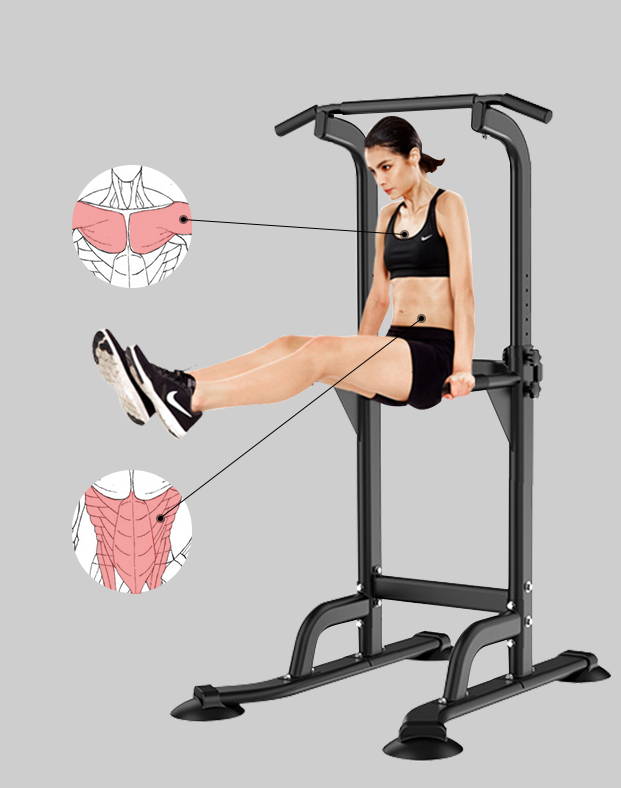 Vertical knee raise targets your midsection from all angles. Use it to develop not only abdominal muscles, but stronger obliques and hip flexors.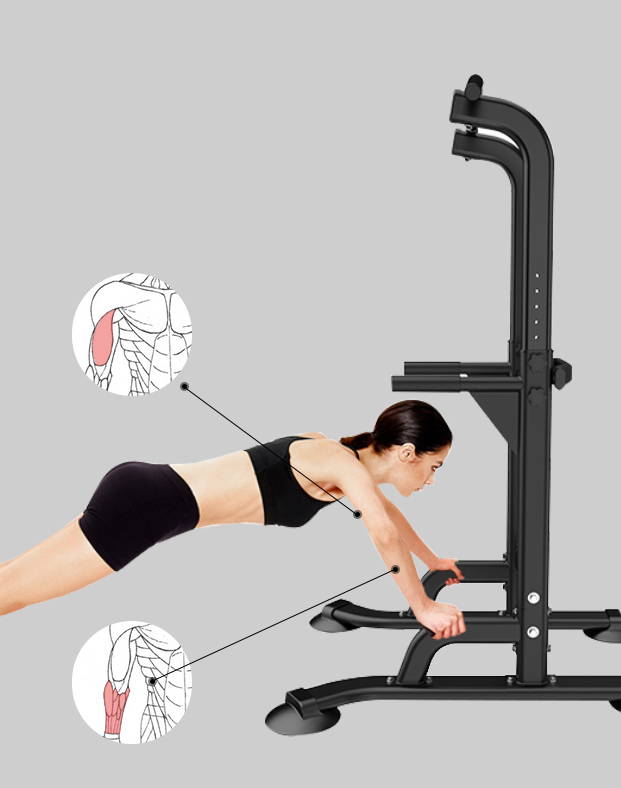 Push-up builds your back and arm muscles, reinstates your shoulders, the triceps as well as helps in building a stronger chest and improve upper body muscle groups.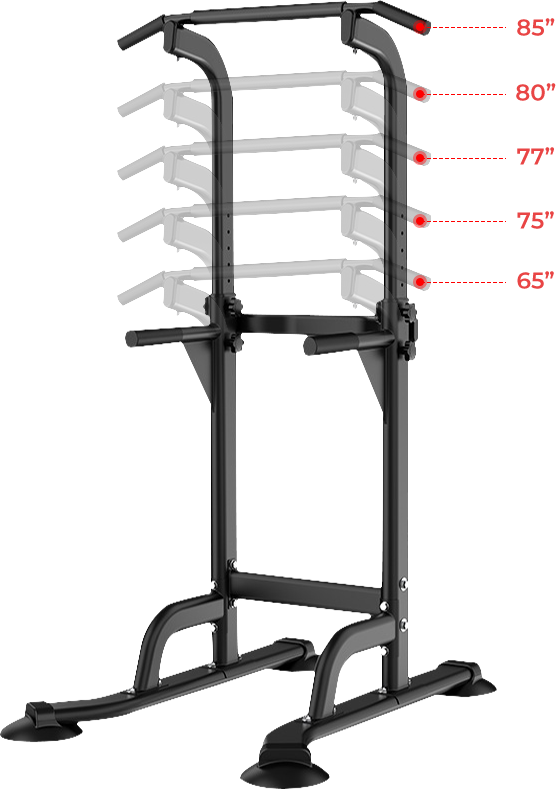 Suitable for People of Different Height
Don't worry about being too short or too tall to use our Power Tower. Just leave it to us and we'll take care of your concern. From 65" to 85", we provide a range of different height for your excellent using experience. Whatever you need.
You Are On The Threshold of
Join us for the improved sport performance, enjoy it when you sweat all over your body and be the witness of you getting MUSCULAR and HOT!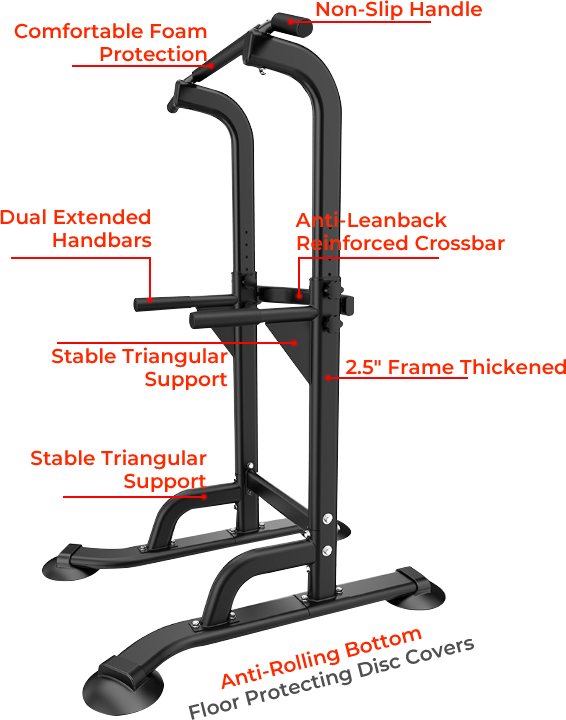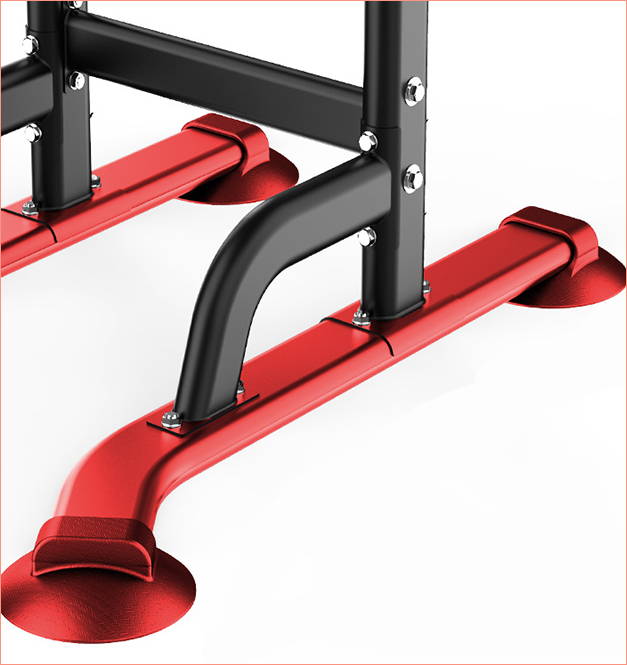 The unique designed bottom makes it possible for the Power Tower to remain standing all the time. The larger bottom ensures a firmer support. No matter what you do up there, it just won't fall down.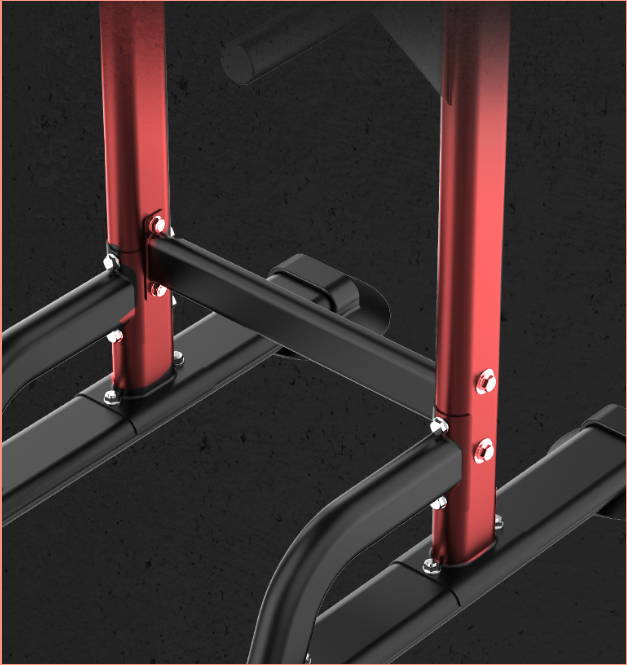 The thickened and widened Framework makes it more durable and stable. The solid support enables you to do various kinds of movements worry-free.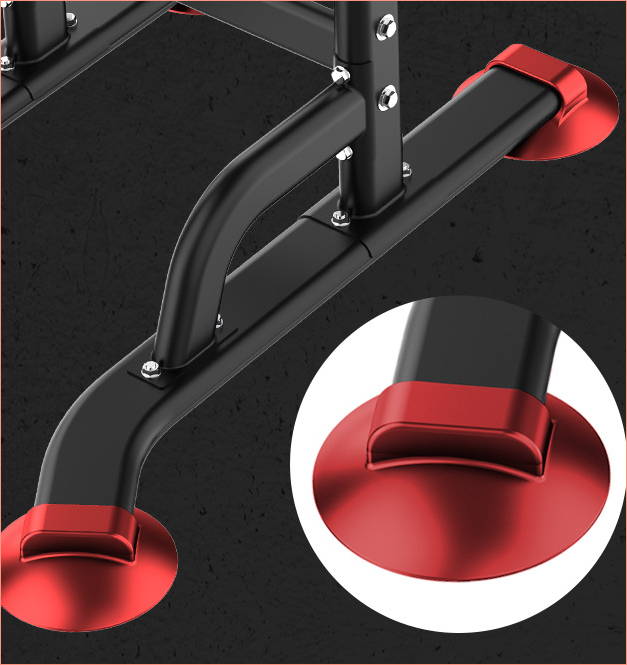 To better protect your valuable floors, we specifically add 4 enlarged sucking discs covers to the bottom so there will be no scratch mark left on your floors. Also, they provide extra support to protect you during workout.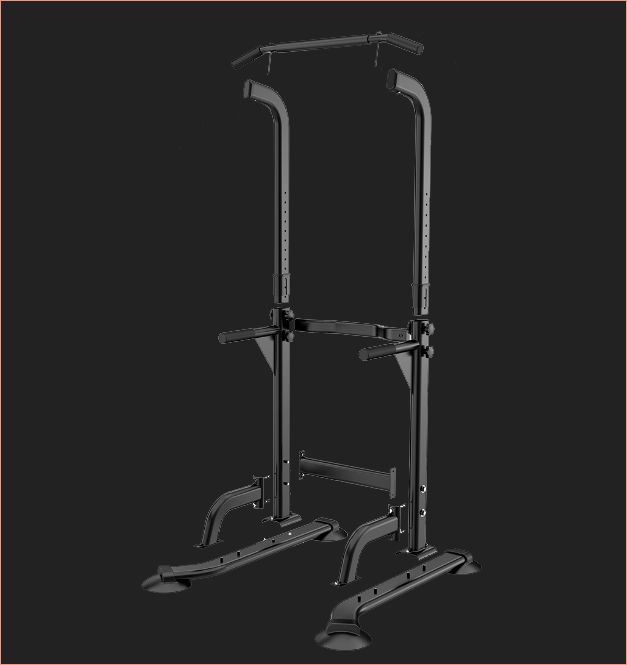 Unlike other ones in the market, our pull up station is extremely easy to assemble. It takes only 30 minutes or less for a female to put them together, which saves your precious time and effort.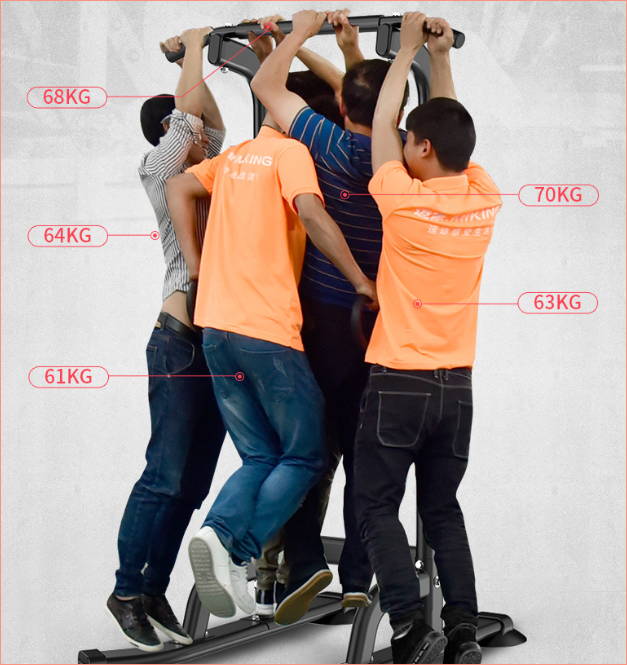 Being stable and durable, our Power Tower is able to holds up to 440lbs weight without any risk of leaning forward or backward, let alone falling apart. Your safety is well protected.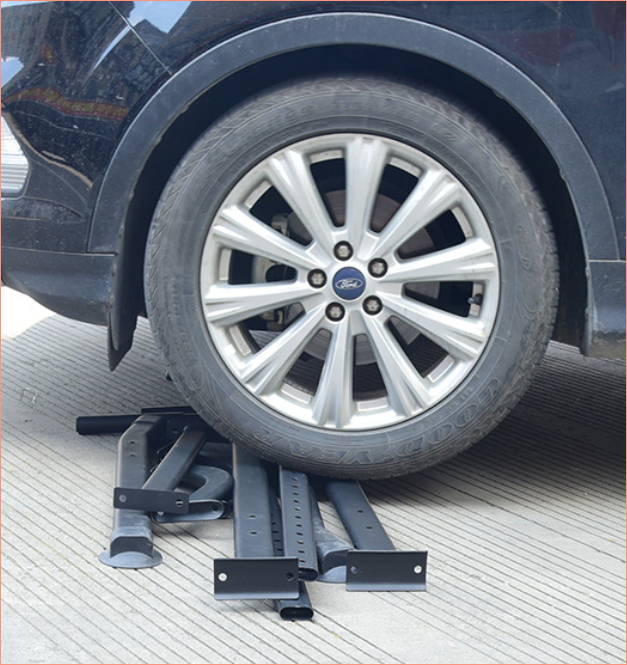 The strong and durable pipes are still intact and remain usable even after being crushed by a large vehicle weighing 3800lbs.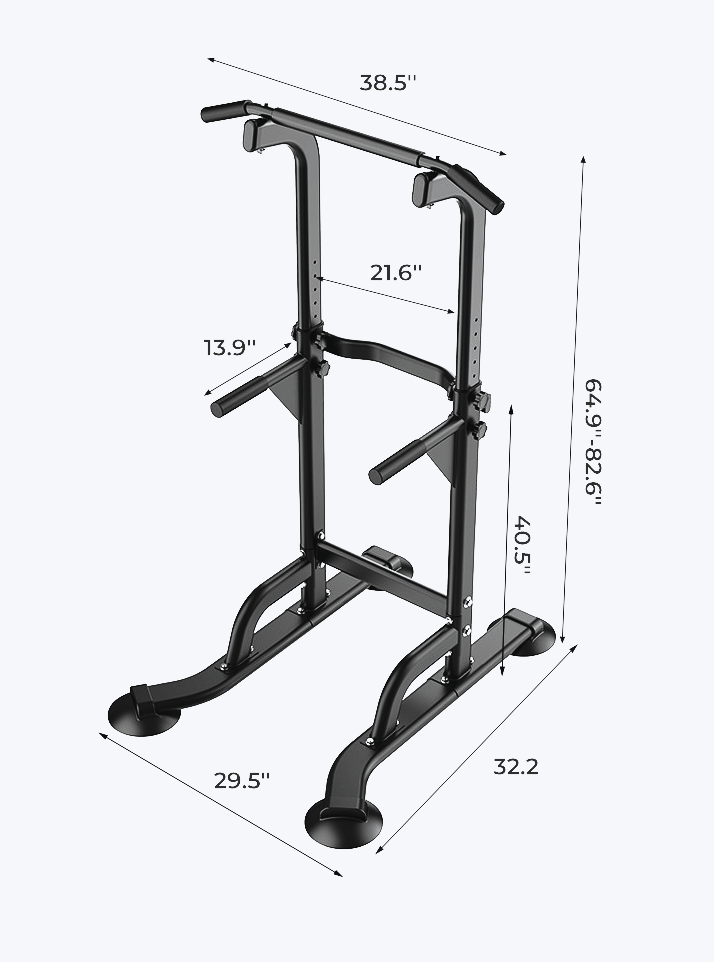 WHAT ARE YOU WAITING FOR?
Please feel free to contact us for whatever question you have!
We are here to answer it in 24 hours and offer you first-class customer services!
All for your WORRY-FREE shopping experience!